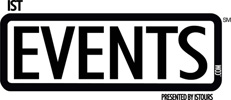 IST Events is a division of International Student Tours, Inc. ("ISTours"). ISTours has been the industry leader in group travel since 1976, with over 500,000 satisfied customers traveling to destinations throughout the World. We are well respected throughout the travel industry and are known for consistently partnering with high-end brand-name hotels, airline providers, and motorcoach tour operators. We provide outstanding customer service, detailed travel itineraries, and take pride in providing a quality experience for our travelers. There's a reason we've been in business for over 30 years with over 500,000 satisfied customers. Trust your travel needs to the industry leader and travel with the best. Travel with IST Events.
ISTours is a proud member of the Better Business Bureau, the National Tour Association, the American Society of Travel Agents, the International Air Transportation Association, the International Airline Travel Agents Network, and is a registered seller of travel with the California Attorney General's Office.
What are the benefits of using a member of the American Society of Travel Agents?
ASTA travel agents are knowledgeable professionals who uphold a strict code of ethics. The society provides education, training, and resource materials to its members to equip them with the tools needed to offer you the highest quality of service. Knowledge ASTA travel agents keep up-to-date by attending industry events offering educational seminars and networking opportunities.
Why choose a National Tour Association member?
National Tour Association members must meet strict requirements regarding insurance, number of tours conducted, and employee experience. Traveling with an NTA company helps ensure your investment is protected and that your trip will run as smoothly as possible.
What types of insurance does IST Events carry and how is my investment protected?
IST Events is proud to participate in the California Restitution Fund, is covered by $1 million in professional liability insurance, $1 million in general liability insurance, and $1 million in errors and omissions insurance. All travel funds received by IST Events are protected in a trust account with Wells Fargo Bank, N.A. For a complete listing of all our credentials, affiliations, financial protections, and insurances, please call one of our customer service agents at (916) 850-1976, or toll free at (800) 448-4444. We also invite you to visit the BBB website as a reference.

International Student Tours, Inc.
www.istours.com